Gold
Ranging from 8K to 22 K.
Very light weight.
Available in various alloys of gold.
Wide Variety of designs and up-to-date collections on latest market trends.
Budget based affordable jewelry using CZ.

Silver
Casted Jewelry using latest techniques for highest quality.
Artisan crafted Handmade Jewelry by highly skilled craftsman.
Light weight stamped jewelry designs in wide variety.
Mass production capabilities.

Base Metal
Cadmium, Lead and Nickel Free alloys for base metal jewelry.
Customer specific customized jewelry.
Multi color plating options.
Most advanced production techniques and machineries to offer a wide range of product types.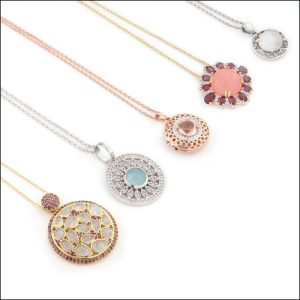 Gemstones
Precious stones manufacturing.
Semi-Precious and opaque stones manufacturing.
Synthetic gemstones manufacturing.

Artisan
This is a sample text
This is a sample text
This is a sample text